Professional Boarding for Dogs
The Feed Loft is excited to partner again with Cypress Ark Acres to offer boarding for your puppy/dog. Drop off your furry friend at The Feed Loft and Cyrpess Ark Acres will pick them up and take your dog on their own vacation.
Cypress Ark Acres is a facility where your pet will feel like they are at home while their owners are away. Each pet will have their own snuggle and playtimes. While snuggle time is obvious, playtime includes running or playing fetch in the 1.5-acre pasture that is fenced in, getting brushed or toy time. Cypress Ark Acres offers pick up and drop off services at no additional charge. If you are an owner that would like updates, Cypress Ark Acres can post photos on the business Facebook page or even text them to you with your permission. Any other questions please feel free to reach out to Cypress Ark Acres at (815) 263-0230 or on Facebook.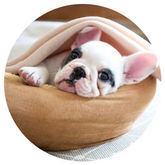 Overnight Boarding
Overnight, dogs sleep in individual, comfortable runs in which they have quiet, personal space after a full day of play.
Come visit our pet supply store with bait & tackle in Channahon, IL specializing in quality food and supplies for cats, dogs, chickens, horses, small pets and more.