Positive Training for Positive Results
The Feed Loft is excited to partner with Cypress Ark Acres to offer obedience classes for your puppy/dog. Check out our upcoming events page for the next available class date and time
All sessions are one hour at The Feed Loft. These classes will cover basic obedience. Cypress Ark Acres also offers training at their facility if an owner wants to drop off but they highly recommend owners be a part of the process. Training sessions are focused on obedience and Therapy dog training (K9 Good citizen and Therapy testing).
If you have any other questions please call or text at (815)263-0230 or reach Cypress Ark Acres on Facebook.

Behavior Modification
Here at The Feed Loft, we focus on pet behavior modification. Dog behavior modification is where we change existing pet dog behavior. This includes but is not limited to training in or modifying chain decorum, chewing, pet dog resource protecting, barking, splitting up anxiety, leash lunging, leash aggression, dog-on-dog hostility, and dog to human hostility.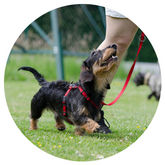 Beginner Training
Beginner training for pets is crucial. Dogs intend to please, so with these beginner approaches as well as methods, they will offer your pet dog's possibilities to make you delighted. Our training courses begin with the traditional sit, stay and come. Yet as your pet dog advances, we offer a lot more tough demands that are supplied in our other courses! These are designed to keep your pet dog engaged and on their toes.

Come visit our pet supply store with bait & tackle in Channahon, IL specializing in quality food and supplies for cats, dogs, chickens, horses, small pets and more.